Leftovers in a Baked Potato
You know when you have just little random bits of food left over that you don't know what to do with?? Anyone? If so, this post is for you.
I think I might have come to a conclusion. To just stuff everything in a potato. Think of the possibilities. Ha! But really....
That's how this came along. A coconut amino chicken and brocolli stuffed russet potato with ghee and nutritional yeast. After I ate it, I regretting not adding bacon and Primal Kitchen Ranch. Ugh! Will do next time.
My recent trip to Peru made me fall in love with potatoes. I never really ventured far from the sweet potato in life, but it's true what they say, they are the greatest tasting potatoes I've ever had. Prepared in all sorts of ways. Fries, mashed, tots, chips, gnocchi (it was a cloud of sinful heaven, just incredible) slivers in Lomo Saltado, the best potato soup I've ever tasted while in the middle of the Inca Trail, just a whole new experience to my pallete of what the potato could be. Geeky I know. But food is medicine, and I've never felt so good eating so many
potatoes.
(Applause for potato)
And this is the just basic russet potato, it makes me laugh. I'm in for some real potato recipe exploring!!
Okay here's what I did. It turned out surprisingly good. And, nutritional yeast is amazing for you.
Ingredients:
1 russet potato
1/2 lb chicken breast
2 TBSP coconut aminos
1/4 tsp baking soda
Sprinkle of pepper
Drizzle of olive oil
2 TBSP nutritional yeast
1 cup broccoliMinced nutmeg
1 Tbsp ghee
Recipe:
1. Preheat the oven to 350. Bake the potato for 30 minutes to crisp up the skin a little bit, then wrap in foil for another 45-hour or until it's tender to touch.
2. I personally would go ahead and bring a pot of water to boil and blanch or steam your brocolli (if you don't have leftovers) and get that out of the way. Refrigerate for later use. The shaved nutmeg brings out the earthy flavor of greens. I sprinkle some on everything green or creamy. Try it!
3. With about 20 minutes left, slice up your chicken breast into 1/4 inch slices, super thin! That way they soak up the aminos.
4. Place your sliced chicken in a bowl with the aminos, pepper, and olive oil. I also threw in some minced garlic. I always think of these things after the pictures. Rats. PRO TIP: baking soda gives the crisp to the edges of your chicken!!!! Throw that in there too. Stir it alllll up.
5. Let that sit while you heat up a stainless steel pan on low. Important also, the stainless steel helps crisp up the chicken too. Trust me. I've tried all the freaking pans.
6. When the pan is hot (also important) toss in the chicken and spread them out to where they have their own space to fry up. Geez another important thing!!
7. Wait until the chicken is alllllmost cooked through and then flip (tip- use a spatula) Mine took about 6 1/2 minutes before the flip-flop.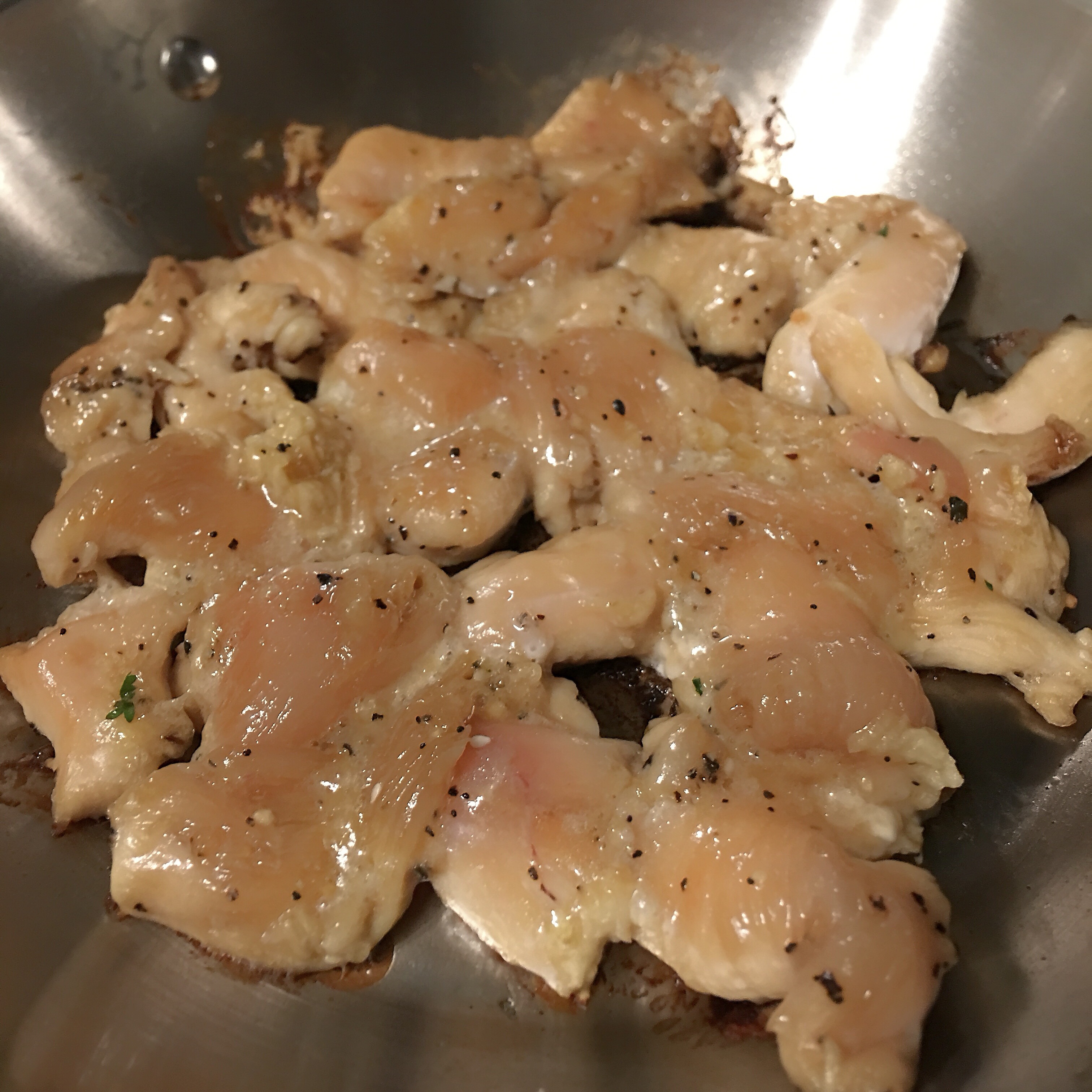 Look at that criiiiiiisp!!!!!
8. Raw chicken is weird to look at. Okay now wait about 30 seconds and then throw in your broccoli. Stir around for another 30 and it should be ready!
9. The potato should be done soon, take it out and let it cool, then cut down the middle, spread on the ghee and 1 TBSP of the nutritional yeast. Top with chicken and brocolli mixture, then the other TBSP of nutritional yeast.
There ya have it folks. Who is next for the leftover stuffed potato???
Have a great day!