Immunity Shot

Hey y'all! Happy What The Fork Wednesday!
This week's recipe is short and sweet....well, I should say short and zingy! This is one of my very favorite combos of magic ingredients for the body. Mainly your gut!
Not going to lie, when I first tried this, it made my eyes water. Hahaha. But, I got used to it and it really isn't so bad anymore. Let's just say, the benefits are worth the harsh swallow.
Some magic ingredients in this shot and their benefits -
ACV: antimicrobial/antiseptic properties, gut health, reduces congestion, opens up sinuses, skin benefits, really it's just incREDIBLE for you.
Lemon juice (freshly squeezed): a natural detoxifier, supports liver and kidney functionality, helps keep the body in an alkaline environment, energy!
Manuka Honey: this stuff is the real deal, loaded with vitamins and minerals, anti oxidants/anti bacterial/fungal, don't be afraid of honey because it's "sweet"Turmeric Powder: turmeric is all the hype. It's #1 beneficiary is to help with inflammation. And it works!!
Ginger, Cinnamon, Cayenne: all immune boosting ingredients, gets things moving in the body. Cinnamon helps to regulate blood sugar. Cayenne supports metabolism and nutrient allimilation (kinda cool eh?) Ginger is an awesome anti-inflammatory.
So, you probably guessed it, all of these things are being combined in small forms, mixed well, and taken as a "shot". Best time is on an empty stomach first thing in the morning. I immediately feel an energy spurt and tummy feels great.
There is no way that I could make this individually every morning, so a good tip would be to make tripe the servings, & buy little plastic cups and store your shot in them over a few days in the fridge if you want to stay consistent.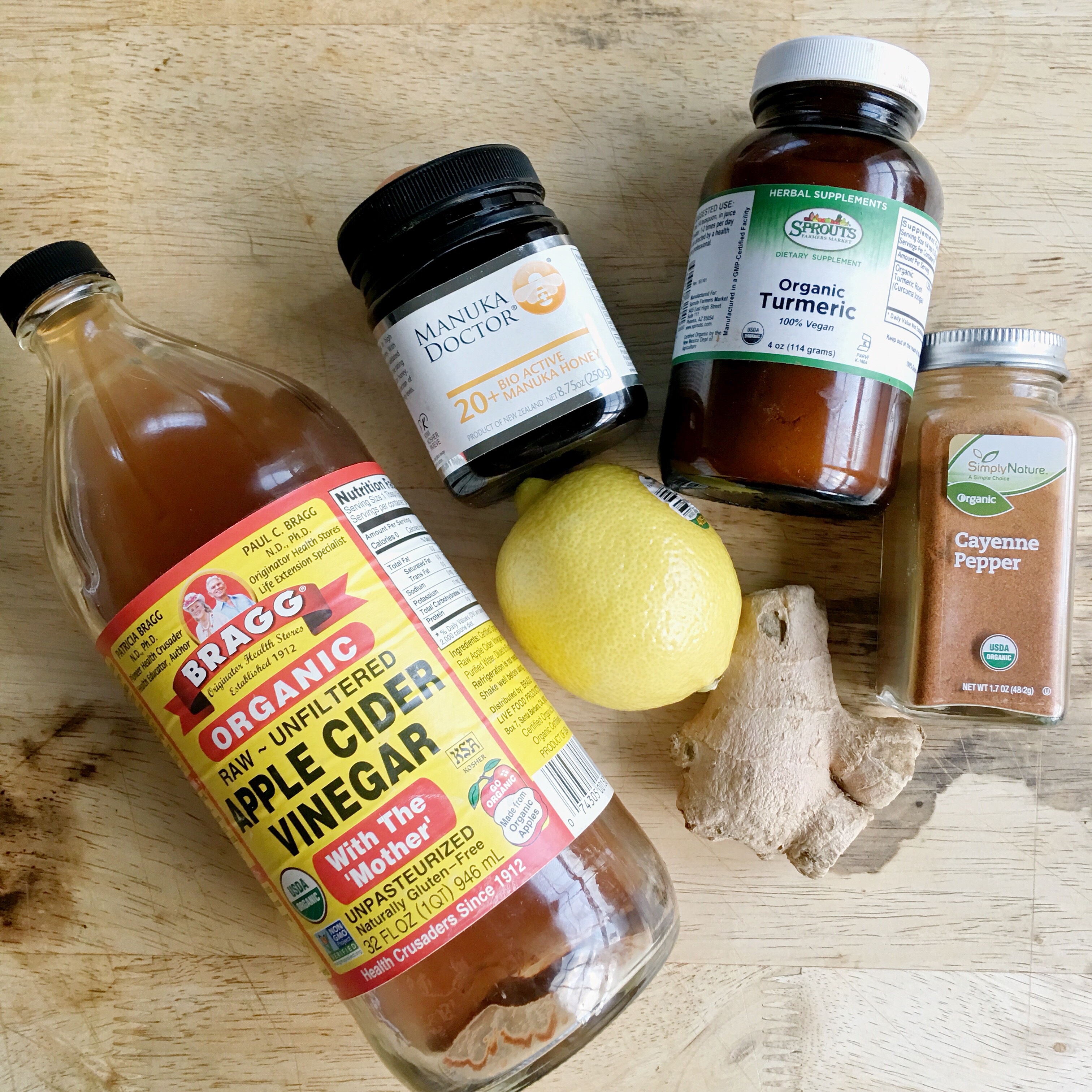 Ingredients:
1 TBSP ACV
1 TBSP lemon juice
1/2 tsp Manuka honey
1/4 tsp turmeric powder
1 inch of ginger, peeled and minced
Pinch of cayennePinch of cinnamon
1-4 - 1/2 cup water (optional)
Recipe:
Place all of your ingredients into a glass containers cover and shake it up, mix, or even use a bullet to blend! Add the water if it's your first time and tags a few big gulps, or just bite the bullet and shoot it!