Ahi Tuna Stuffed Avocados
Happy What The Fork Wednesdayyyyy !
Yesterday was National Avocado day apparently. But if I'm being honest, I treat errrrrryday like National Avocado Day.
I saw this pop up on my Instagram feed and just had to make a version of my own! If you like sashimi, this is right up your alley. I'm a huuuuge fan of raw fish and sushi. Like....I'd eat it every day if there was no such thing as mercury poisoning, ha!
This meal/snack is perfect for anyone trying to eat lower carb. Keto peeps. AND W30 peeps. It's Paleo too. Also dairy free...gluten free...all things free. Packed with protein and healthy fats.
And, SO beautiful to look at! These lil guys would be perfect for a snack bar or appetizer as well. You could make these ahead, wrap them in plastic, toss 'em in the cooler for lake day/ outings. Super refreshing and won't leave you sluggish!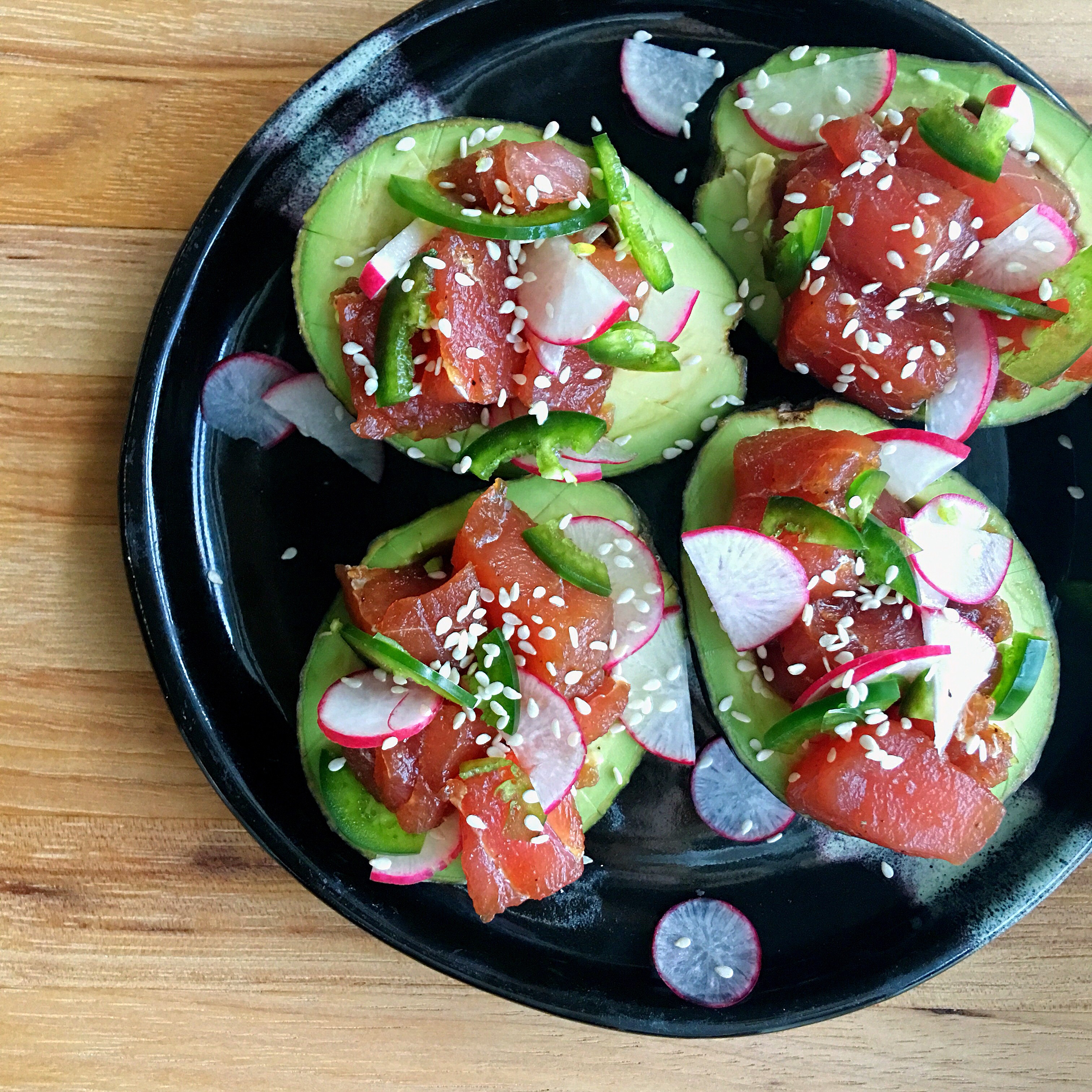 Ingredients: (4-6 servings)
1 lb sushi grade ahi tuna (quality matters most here)
4 hass avocados
4-6 TBSP soy coconut aminos (W30) OR soy sauce
1 jalepeno
2-4 radishes
Sesame seeds
1 lemon
Recipe:
1. Slice 'n dice the ahi tuna into small cubes - against the grain for the best bite. Trim off any hard or dull areas. Place tuna in a medium bowl.
2. Pour in the coconut aminos or soy sauce and mix well. More or less if you like! Cover the bowl with plastic wrap and let marinate for 20-30min.2. In the meantime, thinly slice the jalepeno, discarding the seeds. Slice radishes as well. (Note, if you like spicy, add 1/2 of the sliced japs into the tuna/aminos mix to marinate). A little wasabi would be great to toss in as well.
3. When time is up, slice the avocados in half, remove the pit. (Hack: squeeze a smiiiidge of lemon juice onto the avo to prevent browning, and adds a little brightness!) With a knife, make a tic-tac-toe or # sign in the avocado without going through the shell. I then scooped out the tiniest bit to make a bigger tuna hole. But don't you dare waste that avo!
4. Spoon tuna mix into avocado beds. Top with jalepenos, radish, and sesame seeds.
Enjoy!
- Chels